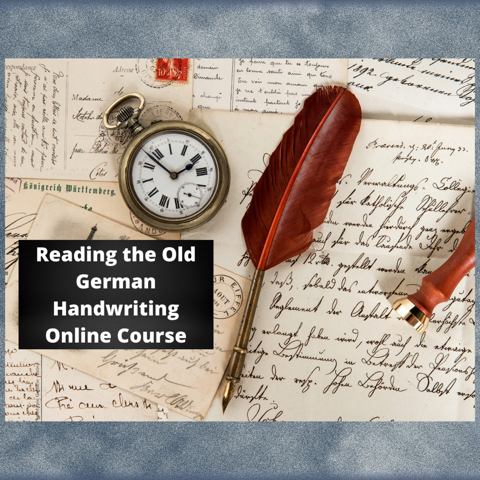 Reading the Old German Handwriting Online Course
Learn to read the script of your ancestors and decipher your German documents!
Description: Learn to read the old German handwriting of your ancestors in this interactive and comprehensive course! Complete with flashcards, matching games, quizzes, vocabulary lists, and actual practice records, this course takes you from learning the handwritten alphabet to deciphering entire records. Best yet, the course is entirely self-paced and grants you life-time access – meaning you can come back and review anytime the genealogy bug bites!
To learn more about the course, click the sign up button below.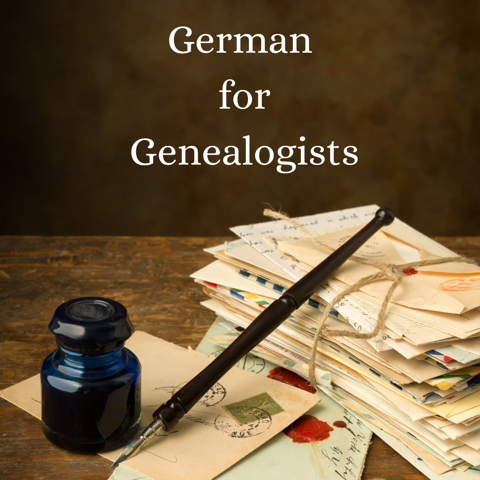 German Language for Genealogists Online Course
German for Genealogists is LIVE!
This highly-anticipated course teaches you the exact German language you need to know to work with your genealogy documents. While other German courses are great, they focus on teaching you the modern German you need to converse in Germany in the 21st century. 
This new course, German for Genealogists, will teach you the targeted German language you need to work specifically with your ancestors' records. It focuses on genealogy-specific vocabulary, helpful German grammar (did you know the word "der" vs. "dem" can make all the difference in what your sentence means in relation to your ancestor?), church record headings, vital record language, and much more. 
Start Discovering Your Family Story!
Take Your Research to the Next Level.
I asked Katherine to transcribe and translate a baptismal record written in Old German script from 1828 about my Great, Great Grandfather. We had hit a brick wall in our 

Erkenbrecher

 genealogy and we just couldn't find where or who our relatives were in Germany. Katherine did an excellent job of translating this document which divulged the parents of our GG Grandfather. Because of this finding, I have been able to go back eight generations in our 

Erkenbrecher

family tree, all the way back to Hei…