You've been researching your family for years. You've even discovered the village from which your ancestors originated. That can be a major hurdle, so congratulations on a job well done!
Now you're longing to walk in your ancestor's footsteps… you can't wait to see what they saw, touch what they touched and feel what they felt.
So why the hesitation?
Oh, you've never traveled out of the country before? I get it.
What, you don't have a traveling companion to share this adventure? That's understandable.
AND you don't speak the language? Oh my, that's a problem… or is it?
These were the very reasons I hesitated.  But I had a goal… a mission… a DREAM.
It was 1997 and I'd been an "orphan" for 10 years. My genealogical quest started at the age of 22, after both my parents had passed away. Now, I was ready to take my research to the next level and experience walking in my Roederer ancestors' footsteps in Diersburg, Germany. Diersburg is a tiny village of about 700 people in southwest Germany, deep in the Black Forest.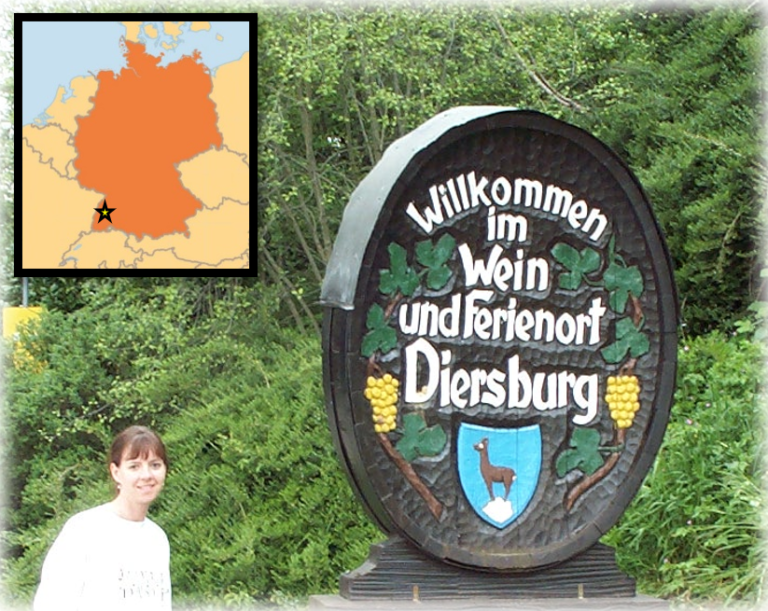 Lesson #1: Don't let your fear and the negativity of others keep you from pursuing your goals.
Think back to 1997… no smart phones, no language translator apps, and no Google Maps. I did it without all of these modern conveniences that we take for granted today. This crazy German adventure made me step out of my comfort zone for two solid weeks and with that struggle came more treasures than I ever imagined!
Was I crazy? Many people thought so – and a few were not afraid to express it.
It was my first trip abroad; I was traveling alone and you guessed it… I knew less than 25 words in German. But I didn't let that stop me, and you shouldn't either.
Lesson #2: Check sources for online records for your ancestor's village.
Through FamilySearch.org, I was thrilled to have access to the Diersburg church records. Reading the German script is a challenge, but can be done, even if you don't speak German. Over several years, I taught myself to read the German script. Today, it's easy – so many tools at our disposal. My favorite is Tips and Tricks of Deciphering German Handwriting by Katherine Schober. Seriously! It's not a shameless plug for my friend, Katie.
Lesson #3: Locate and arrange a meeting with an area genealogist/archivist.
Something I wish I had done before going abroad was to make contact with a local genealogist who could help me locate and translate church and civil records. With translation tools built into programs and websites, there is no excuse to not reach out for help before you arrive.
Lesson #4: Don't be shy.
Once I made it to Diersburg, I planned to go to the place I felt most comfortable. Even though I didn't speak the language, I found my comfort zone by learning one important phrase – "Wo ist der Friedhof?" (Where is the cemetery?). I may not speak German, but I'm fluent in tombstone! My plan was to transcribe the entire cemetery of the village.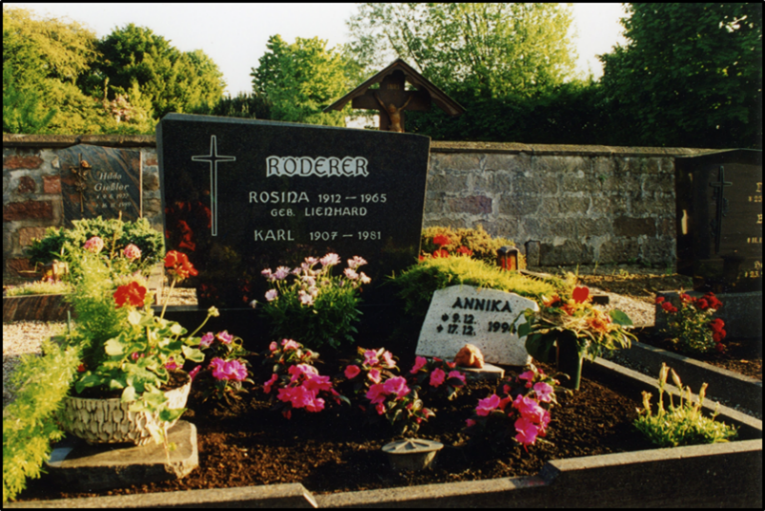 While transcribing the Diersburg cemetery, I saw a woman tending to a loved one's grave. Something else caught my attention – she was at a Roederer grave! This must be my lucky day… my first German Roederer cousin!
 Lesson #5:  Be flexible and allow time for those unplanned excursions.
"Sprechen Sie English?", I asked.
"Nein", she replied.
My attempts at explaining my desire to learn more about the Roederer family fell on deaf ears; however, this lady did help by telling me to go to Hildegard's Haus. Thank goodness the German words she used were English words of Germanic derivation. I was able to get to Hildegard's house but she didn't know enough English to help me. In search for someone in town who knew enough English to communicate with me, Hildegard led me to Johannes. Johannes led me to Mina, who sent me to Gunter. Gunter knew even less English than the woman in the cemetery. I did not come this far to STOP this far. Gunter may not have known English, but he knew Manfred! Manfred visited Alaska frequently (an Iditarod enthusiast) and spoke nearly perfect English! It took me FIVE visits to strangers' homes before I found my true German GEM.
 Lesson #6:  Never underestimate the power of someone's kindness and where it might lead years from now.
Ironically, Manfred's great-grandmother was a Röderer from the village next door – Oberschopfheim. I was introduced to an entirely new Roederer clan which is totally separate from the Diersburg Roederers. Even though the villages are a mere two kilometers apart, the families never intermingled because one was Catholic and the other was Evangelical (Protestant).
Manfred explained that the Oberschopfheim Roederers also immigrated to the US in the early 1800s and settled in St. Louis. He remembered a lady from St. Louis visiting his village 10-15 years ago to research her Roederer ancestors. Lucky for me, he was able to retrieve her name. St. Louis – here I come! But that's a story for another time.
So why did I call Manfred my "German Gem"? This random meeting of Manfred, prompted by a stranger in a cemetery, has led to a beautiful, 26-year friendship. Manfred has come to stay with us twice in Louisiana and he hosted my husband and me for our honeymoon in 2005. Here I am on our honeymoon with Manfred and his wife, Claudia. Today, we are still in touch with each other on a regular basis.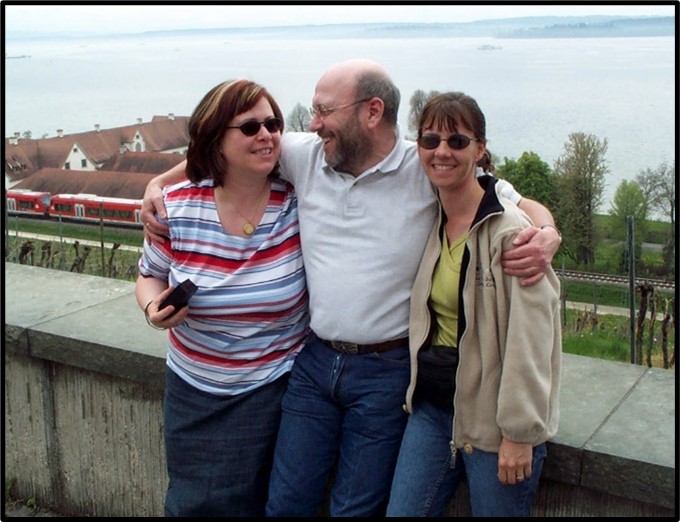 Lesson #7: Learn about the history and culture of the area before you make a fool out of yourself.
At the risk of severe judgment and ridicule, I'll share an embarrassing "stupid American" faux pas I made while on this trip.
I saw a sign in front of a very large house "Freiherr Roeder von Diersburg". Seeing that the name Roeder is so close to Roederer, I assumed there must be a connection somehow. As I walked up to the mansion, I noticed a family crest over the door with the date 1668. I knocked on the door and was met by a distinguished older woman who spoke English beautifully. She graciously let me in and she politely, but firmly, told me that I was in NO WAY connected to her family! The Roederers were "commoners" and the "names are as different as Smith and Jones". This lady was a Baroness, married to the Baron von Roeder, whose family ruled over the area back to the 1400s. The ruins of their castle, destroyed in the 30-Years War, sits atop a hill overlooking the village. Note to self: "Freiherr" is a title of nobility.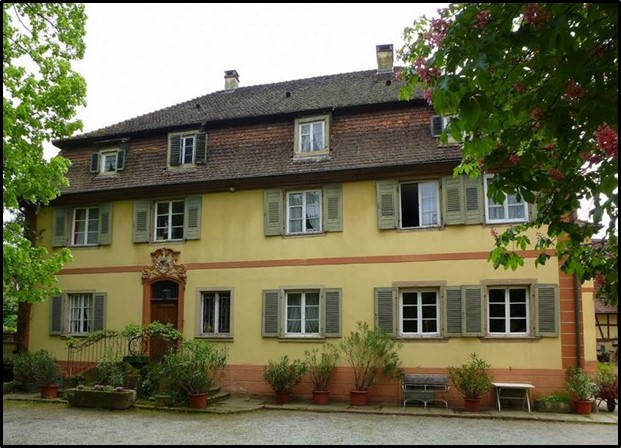 I had no idea that there was still a hierarchy of royalty today in Germany. This was just a tiny village of only 700 people for goodness sake! When I mentioned to Manfred that I knocked on the Baron von Roeder's door and visited with the Baroness, he yelled, "You did WHAT?" And then he burst out laughing uncontrollably!
Now that you're armed with these few simple lessons and today's tech tools at your fingertips… there is no reason to hesitate visiting your ancestor's homeland. The feeling of walking in your ancestors' footsteps is one of those life experiences that is impossible to put into words.
Start planning your next heritage adventure – it will lead you to PEOPLE AND PLACES YOU NEVER DREAMED IMAGINABLE!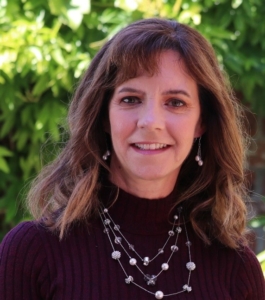 Rhonda Roederer is a professional genealogist, educator and Founder of Heritage With Heart.
Her experiences are diverse: uncovering family mysteries, organizing large family events and reuniting adoptees with their birth families and more.
As an educator, Rhonda has presented countless seminars and workshops for historical societies, libraries and at the world's largest genealogical conference, RootsTech.
She shares her own case studies, taking learners along her personal journeys of family discovery, while giving inspiration and motivation to search out their own lost or extended family.
Rhonda's mission is to help unlock the past, inspire the future and bring families together… one generation at a time.