"Why do you write your letters like that?" is a phrase that most of us have heard at some point in our lives. Just as each of us write our ABCs slightly differently from one another, so too did our ancestors – which can make transcribing their German handwriting rather difficult! Luckily, for those of us who work with the old German script on a daily basis, there is a great trick of the trade that helps with the daunting process of deciphering family documents: letter swaps. What is a letter swap, you ask? Well, some letters in the old German script look very similar to one another, and the way one person wrote one letter may be the way another person wrote its "swap" equivalent. So if a word isn't making sense with the letter you think, trying replacing it with one of its "substitutes", and see if you now have a plausible German word. Read below for the typical "swaps" in the world of German handwriting:
This post contains some affiliate links, which does not affect you at all, but does helps support my business as I earn a small amount from qualifying purchases as an Amazon associate. This in turn helps me to continue supporting you with educational (I hope!) genealogy content. That being said, I personally own – and personally love – all of the books I recommend, and hope that they help you as much as they have helped me. I couldn't translate without them!
While the lowercase letters h, s, and f above are obviously different from one another in their proper form, they can often look similar to each other when quickly scrawled out by our ancestors.

s-c-h-r-i-f-t-l-i-c-h ("schriftlich", or written)
Observe how the middle "f" and final "h" look similar (although if you look closely, you will see differences!)
*The letter "s" actually has three different forms, but this "s" is used at the beginning of a lowercase word or syllable. See Ten Tips for Deciphering German Handwriting for more information on the letter "s".
g-p
Lowercase g and p, with their circles above the line and their loops below, can often be confused for one another.
g-e-n-s (the end of the word Morgens, or in the morning) s-p-ä-t (spät, or late)
a-o
Lowercase a and o can look similar if the author does not bring his final line of the "a" down to the line, as seen in the word "amtlich" below.
a-m-t-l-i-c-h (amtlich, or official) S-o-n-t-a-g (misspelling of the word Sonntag, or Sunday)
e-n-m-r
For the exact differences of e-n-m, see Tip #2 on my Ten Tips for Deciphering Old German Handwriting. Basically, the "e" (first sample) is more narrow, the "n" (second) is more jagged and spread out, with three points at the bottom, and the "m" (third) has four points. The "r" (final letter) should look different from these three, but if you look at the "n" (second), you can see how the "n" and the "r", and even the "r" and the "e", might sometimes look similar in actual handwriting.
e-r-z-ä-h-l-e-n m-ü-ß-e-n (erzählen müßen, or must tell) s-c-h-r-e-i-b-e-n (schreiben, or to write)
N-ST
Uppercase N and St can look similar if the author does not clearly cross his "t". See the example of Nachmittag (afternoon) and Stunde (hour) above.
6. B-C-L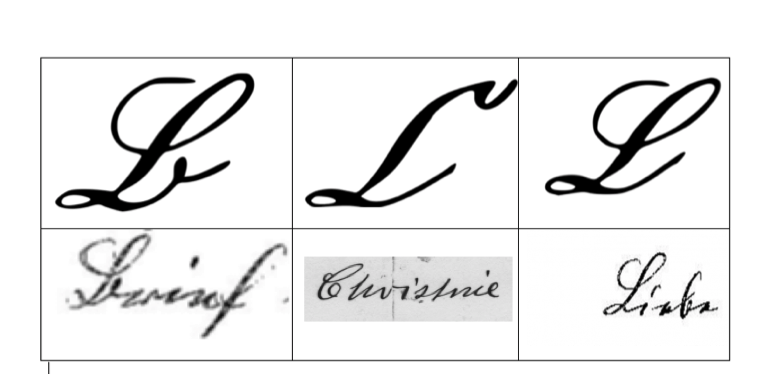 Uppercase B, C, and L can also look very similar to one another, depending on the author at hand. See the examples of Brief (letter), Christine, and Liebe (love) above to see how similar the letters can look (especially B and L).
If you would like more tips on learning how to actually tell these letters apart, see my book, Tips and Tricks of Deciphering German Handwriting – it contains everything I wish I would have known when I was first starting out. I would also recommend Roger Minert's book Deciphering Handwriting in German Documents, which was instrumental to me when getting started in the field. But if you are not interested in learning these minute differences, or if it just seems too complicated and overwhelming, the above "letter swaps" should help if you cannot figure out the German word your ancestor or the church scribe wrote on your document. For example, if a "g" is not making sense, try swapping it out for a "p." If you know there needs to be a vowel at a certain place in a word, but the letter looks like an "n", now you know it is likely an "e". The same goes for all the above letter combinations. Best of luck in transcribing, and, as always, if you would like a professional's help, please don't hesitate to contact me here.