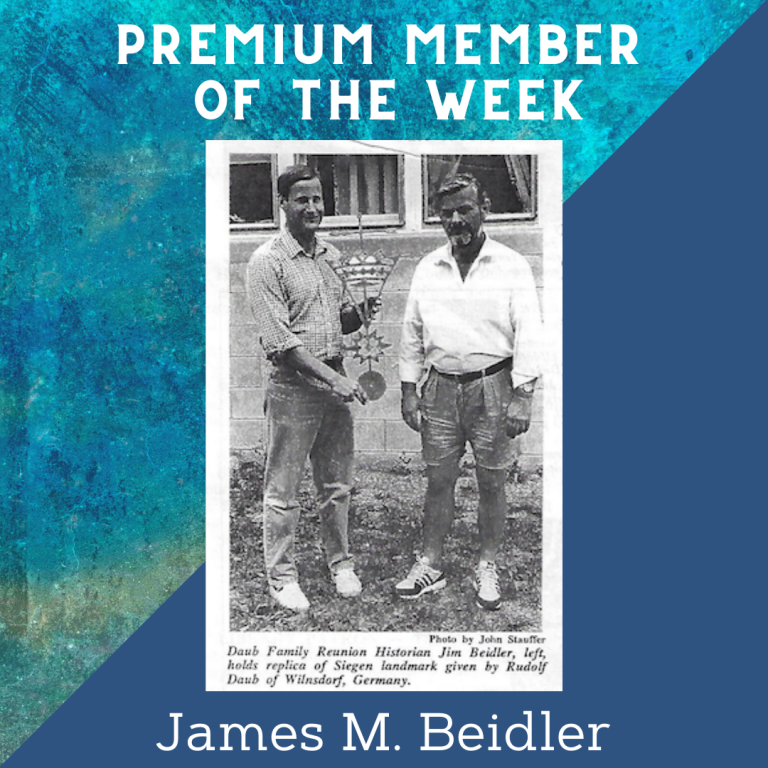 INTRODUCING THE NEW PREMIUM MEMBER OF THE WEEK – 
A FUN WAY TO GET TO KNOW THE SK TRANSLATIONS 
PREMIUM MEMBER COMMUNITY!
1. WHAT'S YOUR NAME?
James M. Beidler
2. HOW LONG HAVE YOU BEEN DOING GERMAN GENEALOGY?
36 years
3. HOW HAS THE PREMIUM MEMBERSHIP HELPED YOUR RESEARCH?
I don't always tune into the "Ask the Translator" hour but I always read the "after summary" … every week I learn a few new words that may be useful in the future!
4. WHAT'S YOUR FAVORITE GENEALOGY STORY YOU'VE EXPERIENCED?
I was historian of the Daub family reunion and had corresponded with a historian of the same surname from Germany (less than 10 km from our Daub ancestral village) … I had invited him to come visit America thinking I had a year to prepare but his wife called me one morning to tell me her husband was arriving in 3 days! We all became friends and have exchanged visits ever since!
Photo: Me and Rudolf "Rudi" Daub, a distant German cousin, on the front page of the Daub Family Reunion's newsletter after his first visit to America.
5. What's One Piece of Genealogy Advice You'd Give to Others?
Be humble on your genealogy journey because you often know less than you think, especially about the history and circumstances that were different in your ancestors' eras. Avoid 'presentism' … Challenge your assumptions!
Below is the entire story of the Daub Reunion: