Thank you to Lianne for this guest post and sharing her expertise with us. For more information on Lianne, see her bio below, or check out her blog here: iFamilyHistory.blogspot.ca.
1. How Can Google Drive Help With My Genealogy?
Back-Up: All of your important genealogy files (such as documents, photos, and letters) should be in three locations: your computer, a USB drive, and somewhere online (that way, if something happens to one, you haven't lost all your valuable documents!). Google Drive is a good location for the online component.
Global Access: Google Drive allows you to access your genealogy files from anywhere, on any device, as long as you have an internet connection.
Sharing: Google Drive allows you to share your genealogy files and photos with family members. You can give your family the ability to add information to the documents themselves, or simply just view them if you prefer to maintain control yourself.
2. How Do I Access Google Drive?
If you have a Google e-mail, you already have Google Drive. If you don't have one yet, you can easily create one here.
Once your Google e-mail is set up, open your web browser.

Type in Google.com.
Log in to Google using the username and password setup when you created the account. Do not use the full Google email.
In the top right of the page are 9 dots. This is a menu.
Click on the dots.
Select Google Drive.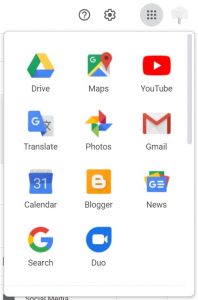 3. How Do I Create a New Genealogy File in Google Drive?
If you want to write something within Google Drive, such as a family history or research log, take the following steps:
From the main menu of Google Drive, click + New.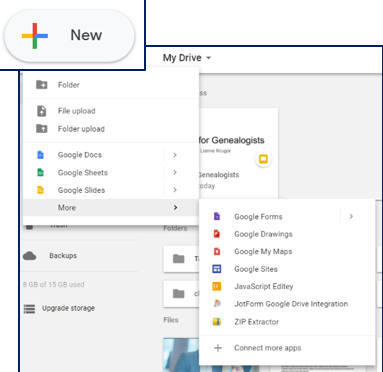 2. Select the program you want to use. For genealogical purposes, Google Docs is great for writing your family history, and Google Sheets is helpful if you are creating an inventory list or a research log. (If the program you want is not on the first list, simply click More, as shown in the image above).
3. Type your new document title at the top left of the screen.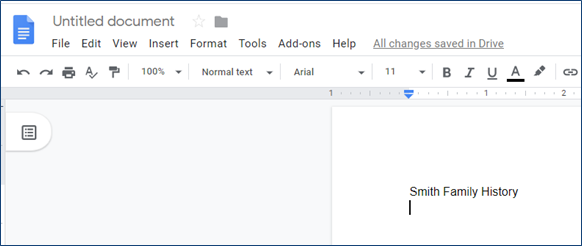 4. Start writing down your genealogical data. Your document will be automatically saved every few minutes.
4. How Do I Upload Genealogy Files That Are Already On My Computer?
Some of your genealogy files may already be stored on your computer. You can easily upload these from your computer to your Google Drive by following the steps below:
1. Click New.
2. Click File upload.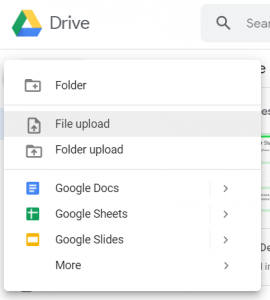 3. Find the file on your computer and click upload. It will then be saved on your drive.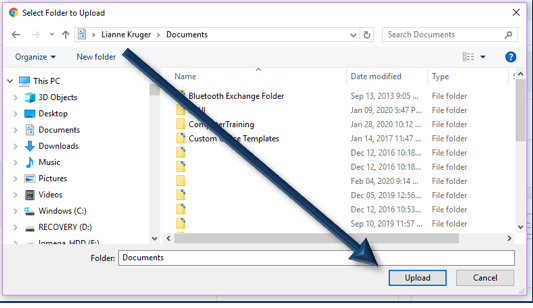 5. How Do I Create a Folder to Group Certain Genealogy Documents Together?
If you are working with multiple lines, it may be nice to group certain documents together in one place. To do so:
Click New.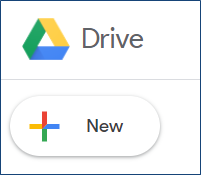 2. Click Folder.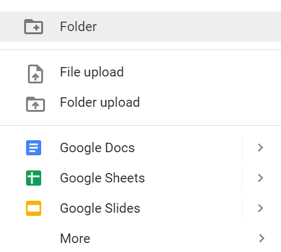 3. The following window will then appear: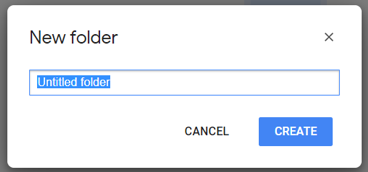 4. Type in the name for the folder.
(This name might be a last name for a specific line or a certain location, depending on what you are going to store and how you are grouping your items).
5. Click Create.
6. I've Uploaded Many Genealogy Documents. How Do I View All My Saved Files and Folders on Google Drive?
There are two ways to view files and folders: the view list and the grid list.
This is a view list: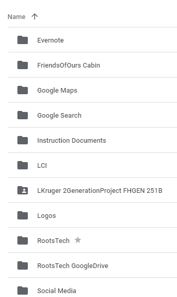 This is a grid list: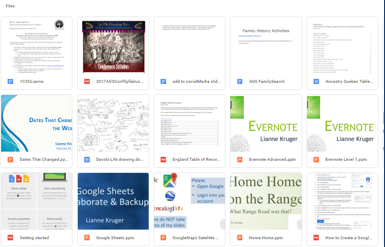 You can choose which option works best for you.
Google Drive will also show you a "Recent List". This is found above the grid or list views.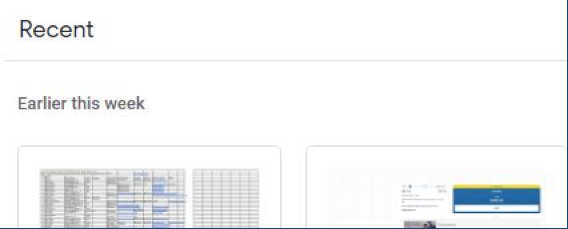 If you don't like the recent list at the top, you can remove it by taking the following steps:
Click on the gear icon in the top right corner of the screen.
Click Settings.
Make sure General is selected on the left.
Scroll down (bar on the right) until you can see the section Suggestions.
Click inside the box to remove the check mark for "Make relevant files handy when you need them in Quick Access."
 
The Quick Access section will now no longer appear at the top.
You can still view this list at anytime after closing the list at the top with the following steps:
On the main menu on the left, click Recent.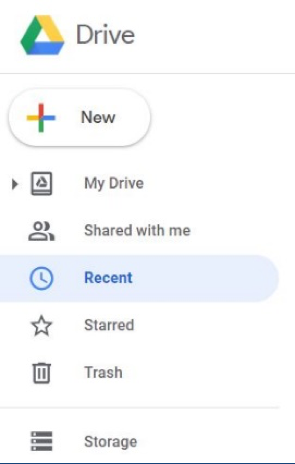 Recent files are listed in date categories such as Last week, Earlier this month, and Earlier this year.

7. Is It Possible to Search For A File By Name or Subject Matter?
Yes, it is. To find a file in your Google Drive:
Click in the
Search box at the top of the screen.

2. Type in the name of a file or a phrase inside the file that you are looking for.
3. A list of files that have the text as a title or text inside that file will appear.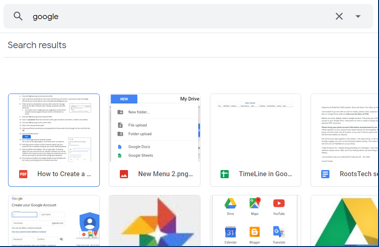 Conclusion
In conclusion, Google Drive can be extremely helpful for your genealogy research. In addition to giving you peace of mind with back-up options for your files, you can also easily share letters, photos, census records, newspaper clippings and more with your family and friends. Best yet, you can also access them yourself at any library, archive, or any place of your choosing.
Do you use Google Drive? Any tips for other users? Let us know in the comments!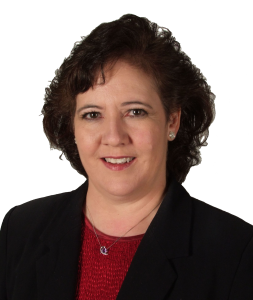 Lianne began doing genealogy as a youth with family at graveyards, then as a teenager with a list of names in front of a microfilm reader on Saturdays at a Family History Library. At college she began researching her paternal grandmother's line researching back to the first European landowners of Canada.
Lianne taught genealogical courses five years at LDS Institute in Ogden, Utah. She has spoken at genealogical conferences and sessions for RootsTech, Ontario Genealogical Society, The Genealogy Show (UK), FamilyRoots, Saskatchewan, and variety of locations in Alberta. Lianne has articles published by BYU Studies Quarterly magazine, FamilySearch.org, SK Translation, AGS Relatively Speaking and Tree Climber. 
She has done webinars for The Surname Society, Virtual Genealogical Society, Red Deer Family History Fair, and a panelist for Looking 4 Ancestors.
She was President of Red Deer branch of Alberta Genealogical Society (AGS) for two years and Vice President of AGS for six years. She is now on the Ancestry.ca advisory committee and a member of the mitoYDNA board.
Lianne's blog is iFamilyHistory.blogspot.ca.
Check out Lianne's other popular guest post: How to Use Social Media in Your German Genealogy Research