During the course of the nineteenth century, millions of our ancestors left Germany and embarked on a new life in America. Whether the reason was the failed 1848 uprisings, the effects of the Industrial Revolution, or simply seeking an opportunity for a better life, the end result was the same – our ancestors bravely left behind everything they knew and moved to a foreign land halfway around the world.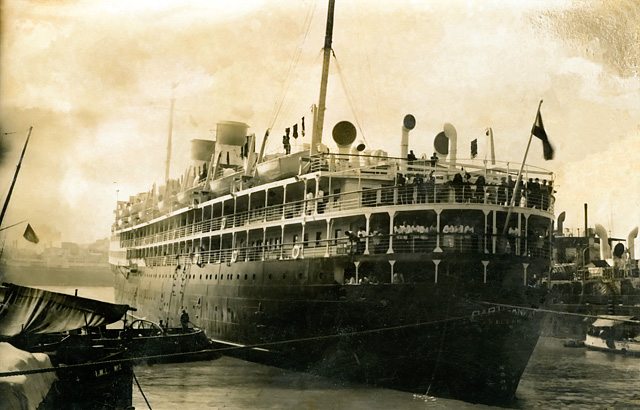 Fast forward two hundred years. If we genealogists want to discover the stories of these emigrant ancestors who so bravely left their homeland, passenger lists, emigration documents, and other records may provide the only clues available. But for some lucky genealogists, there is more: personal letters, letters written in the very hands of their ancestors, letters that detail their journey across the ocean and the beginnings of their new life in America.
Susan Hennefield is one such person who was lucky enough to find such a letter among her father's belongings. I recently had the pleasure of translating this 1853 letter, and she has kindly agreed to let me share it with you here to showcase what an emigration experience was like in the mid-nineteenth century. My own ancestor, Gerhard Wolken, sailed from Bremen in 1854, so I like to think that he might have had a similar journey to Susan's ancestor Wilhelm below! Perhaps your ancestors did too?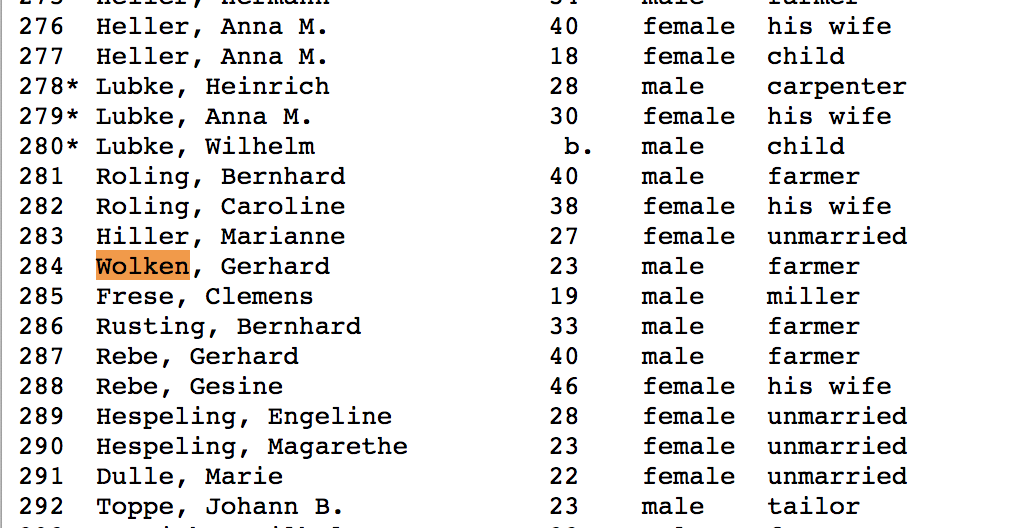 Background Info:
Wilhelm Friedrich Riecker was twenty-two years old when he left Germany for a new life in America. He was the second son of at least twelve children, and his father was a soapmaker in Kürnbach, Karlsruhe. Read on below to see his first letter to his parents after arriving in Williamsburg, Brooklyn, New York after a 57-day sea journey…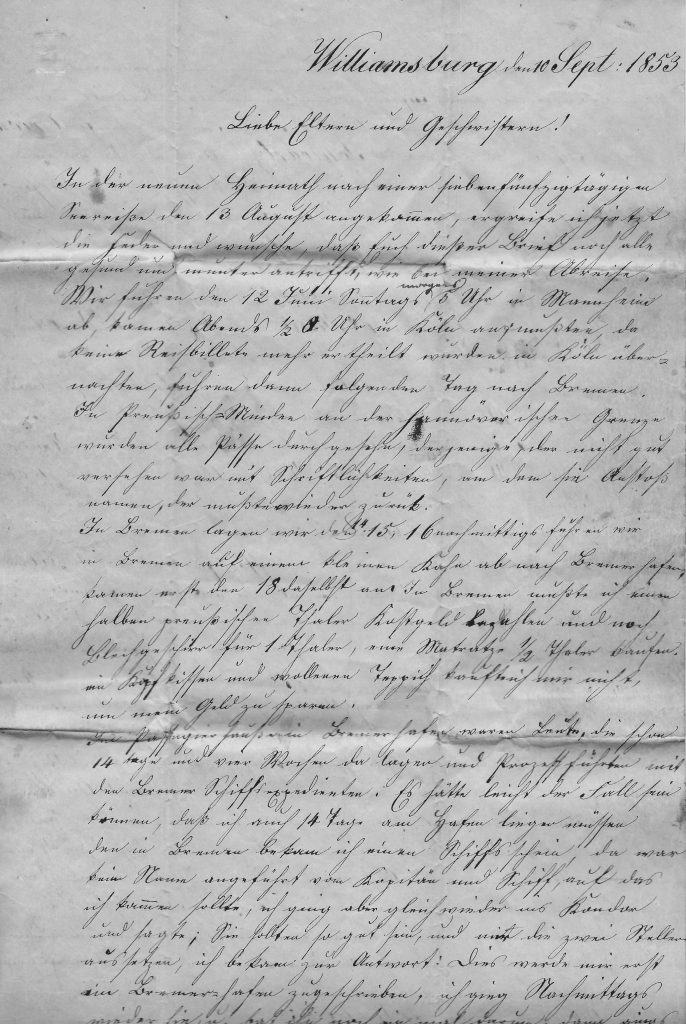 Williamsburg, Sept. 10, 1853
Dear parents and siblings,
After arriving in my new homeland on August 13 after a 57-day sea journey, I am now picking up the pen to write. I hope that this letter finds you all still happy and healthy, as you were at the time of my departure. We left Mannheim on June 12 at 5:00 in the morning, arrived in Cologne at 7:30 in the evening, and, since there were no more tickets being issued then, had to spend the night in Cologne. We then left for Bremen the following day. They checked all our passports in Preußisch-Minden, on the Hanoverian border. Those who didn't have the proper documents (which the authorities were not happy about) had to go back.
We stayed in Bremen the 14th and 15th. On the afternoon of the 16th, we left Bremen on a small barge and headed towards Bremerhaven. We didn't arrive there until the 18th. In Bremen I had to pay half of a Prussian thaler for board, and then had to buy tinware for 1 thaler and a mattress for ½ a thaler. I didn't buy a pillow or woolen carpet so that I could save my money.
In the passenger building in Bremerhaven, there were people who had already been there fourteen days or even four weeks because they were dealing with cases against the Bremen shipping clerks. It could have easily been the case that I would also have had to wait 14 days at the port because when I was in Bremen, I received a ticket without the name of the captain or the ship that I was supposed to go on. But I went straight to the office and said, "Please be so good and fill in these two spots for me." They replied, "You won't receive that information until you are in Bremerhaven." But I went back in the afternoon and asked him again, and then he did as I asked. As we were arriving in Bremerhaven, they took us straight to the ocean-bound ship and said, "Whoever has a ticket for the ship Orion led by Captain Schwartz, bring your things on board." It was only me and a locksmith from Saxony who did so. The barge then made its way to land and everyone went into the passenger building. There they received food like on the ship, just a little bit better. Everyone had to sleep on their own mattress.
So on June 18, we departed from the port. It was a Saturday afternoon with nice, warm weather, and the ship steadily made its way out of the port. The next day we had a good strong wind, we flew like an arrow. If that wind had stayed, we would have made it to New York in 24 days. We sailed on the North Sea for 10 days. It was shortly after 3:00 in the afternoon when we would have gone through the Channel, but we had bad wind and could have been stuck there for 14 days. So we therefore sailed between England and Scotland, which was dangerous – when we woke up in the morning we were heading towards both of the islands, but then the ship was turned about again so that we were being pushed away from the islands instead of going towards them. That same day looked stormy. At the beginning of our trip it was so cold that you almost couldn't stand being out on the deck. Later it was warm. We didn't have very favorable winds, so we always had to veer quickly off course, to the right or to the left, which caused it to be a long journey. There were often storms. One time there was a thunderstorm at 3:00 in the morning. The storm appeared within ten minutes, and all the sailors, except for those who were on watch, were still sleeping. Then there was a scream, and all the boxes slid down. The sailors couldn't reach the ropes to shorten sail, and then they were completely blinded by fire and lightning and then the darkness. But after the sailors had shortened sail, the storm was over.
Births that took place: 2 Deaths: 2
Things went well on my trip to Bremen, but I can't say anything good about the sea: in the morning, we received black coffee, or if someone wanted to have hot water and had their own coffee or wanted to make soup, then they could. Throughout the week, lunch consisted of: peas, beans, rice, barley, sauerkraut, and salted bacon, beef, potatoes. In the evenings, tea or water, ¼ butter for the entire week, zwieback, almost so small that you all would have thrown it to the chickens, 4 small little cakes of white zwieback per week, and 3 half liters of sweet water a day for four people.
Aug. 12. On Friday afternoon at 2:00, we saw land, but we couldn't tell at first if it actually was land or just a cloud. We anchored at 8:00 and stayed there for two hours. At 10:00 we continued on again, and in the morning we were in front of the fort. Then a doctor came and asked if there were any sick people on board. Then we were taken, with the boxes, into the harbor on a tugboat. That was 3:00 on Saturday afternoon, and I was then in New York until Sunday morning. Then I went over to Brooklyn. I found Joseph after about forty minutes, without wandering aimlessly around Brooklyn too much before. The first week, I boarded at a German innkeeper's, then I stayed with Joseph at H. Vollmer's at the bakery until we found work for me. I am now working in Williamsburg at a comb and whalebone factory for an American. I earn six thalers a week for every dozen, and from that I need 2 ½ thalers for room and board. I am actually boarding at Christiana Billett's place. She says to tell you all hello, and hello to her relatives as well. They are all healthy, as are Gottlieb Veit and his wife and Sophie Schaaf. They live an entire hour away from Joseph. G. Veit came to the bakery a few days after my arrival without even knowing that I was here. We then drove out to his home. When we got there, Sophie Schaaf was sitting in front of the house with G. Veit's girl. I didn't recognize her then. Elisabetha was not feeling well that evening of my first visit. They were all excited about my arrival and our reunion. Gottlieb Pfeifer, Wilh. Müller, we all get together every Sunday. Weißert will have told you that Joh. Pfeiffer has gone to California.
Furthermore: Joseph didn't receive the letter that I myself took to the post office in Kalrsruhe right before my departure. Write again soon about what Gottfried is up to in Karlsruhe. Joseph didn't even know that Gottfried had left Kürnbach.
I would very much like to know how things turned out this year with the recruits. I would also advise everyone that they should not travel via Bremen, but via Haven instead. I think that is the shortest way. Going through Bremen always takes longer and the highly-praised food on the ship that people talk about is not how it actually is.
Joseph and I send you all our affectionate regards, as well as regards to all of our cousins Karl Pfeifer, Ch. Scharpf, J. Riecker, our cousins Susanna and both Johanna's, and especially to our esteemed uncle in Ellwangen, our Gother Kärcher, J. Hamman, W. Brand, and their children, cousin Baumwirth, Mayor Drechsel, and our neighbor Joh. Pfeifer, and my friends whom I visited the last few days I was there, as well as to Georg Schaaf and Engelhard Müller.
Don't worry about either of us.
Your
loyal son,
W.F. Riecker
Also say hello to the recruiting leader and his wife. If both of her brothers want to come to America, cobblers can make good money here.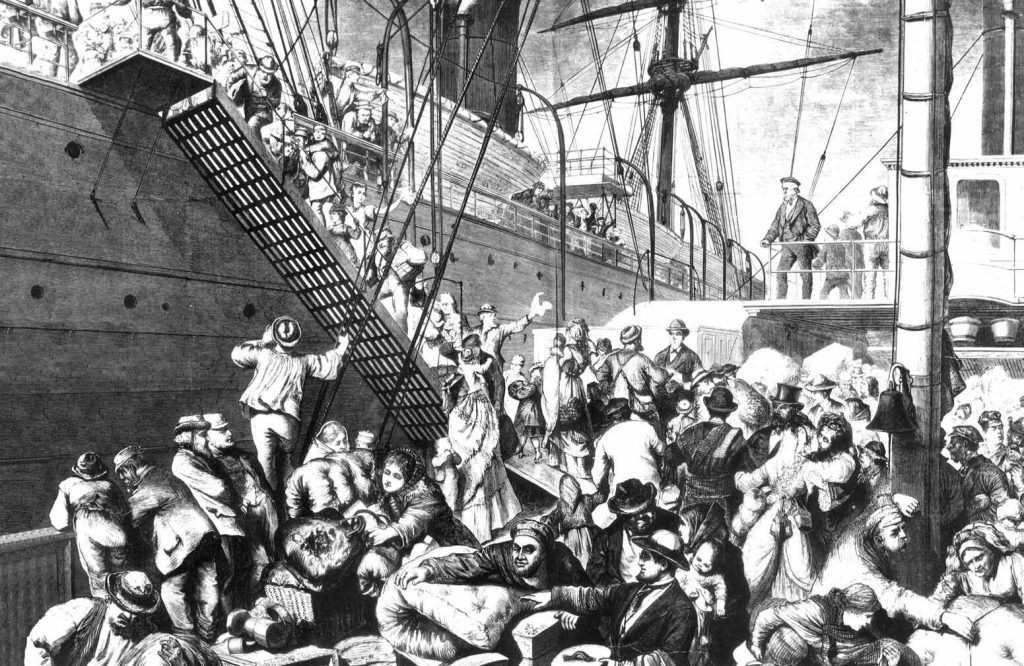 Did your ancestor come over from Germany in the 19th century? How have you found information about their journey? Let us know in the comments!
More Info: German Immigrants: List of Passengers Bound from Germany to New York, 1847-1854
---