Description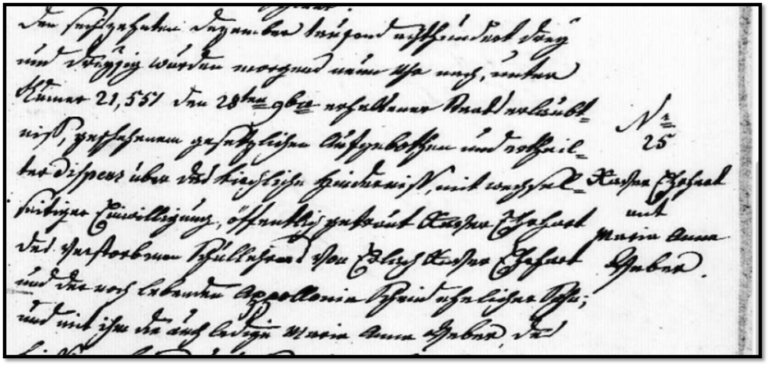 Does this look overwhelming to you? After the workshop, you'll be amazed at what you can decipher from the scribble! Your ancestors are waiting for you.
12 hours of LIVE instruction with German Handwriting Expert Katherine Schober. Most workshops nowadays are pre-recorded, but you will receive live instruction to make sure you understand as you learn! ($1200 value)
12 hours of recordings – in case you missed a week or just want to review – to download and keep forever. This allows you to go back and review anytime you work on your genealogy ($600 value)
7 Expert-designed genealogy worksheets packets for "homework" to ensure you have mastered each concept before moving on to the next lesson ($175 value)
Private discussion board only for you workshop students, where you can chat with fellow learners, share resources, ask for help with personal handwriting challenges, and more
One FREE copy of Tips and Tricks of Deciphering German Handwriting ($19.99 value)
One FREE copy of The Magic of German Church Records ($42.99 value)
Certificate of Completion for your Genealogy Resume
The ability to read your German ancestors' records (priceless!)
That's a total value of $2037!
Grab a spot today for just $997. 
Or four monthly payments of $250 – we want you to learn!
Katherine Schober is a German-English genealogy speaker, author, and translator, specializing in the old German handwriting. She has translated for multiple seasons of PBS' Finding Your Roots, as well as for The History Channel. She is the author of "The Magic of German Church Records" and "Tips and Tricks of Deciphering German Handwriting", and the creator of the popular online courses "Reading the Old German Handwriting" and "German for Genealogists".
Katherine earned her Master's Degree in the German language through the Salzburg-BGSU program, spending the first year in Salzburg, Austria and the second year in Bowling Green, Ohio. She then returned to Austria for three more years, teaching English through the Fulbright program and translating German for various companies and universities, including a publishing history professor at the University of Vienna. Now living in Bend, Oregon with her Austrian husband and son, German is still the main language spoken in her home.
Is genealogy one of your goals in 2024? Then this workshop is for you! The German Handwriting Immersion Workshop is for anyone wanting to jumpstart their genealogy research in 2024. While no prior knowledge is required – new students, we're looking at you! -, previous students of Reading the Old German Handwriting Course will also benefit from this live and interactive additional instruction (and accountability and guided review, with a set finishing date!). There will be new materials here as well. 
We will start with learning the individual alphabet letters and move all the way up to reading the intricate details of church records that provide you with the secrets of your ancestors' lives – leaving you confident to tackle records on your own upon workshop completion! Let's do it!
Your Questions, Answered: 
1. When will this live course meet?
We will meet Thursday, January 25 – Thursday, March 21 – every Thursday* from 2:00 p.m.-3:30 p.m. ET. Each session will be recorded and sent out to all registrants (for life-time access) if you need to miss a week.
*We will not meet the week of the RootsTech Genealogy Conference (February 29), but meet Thursday, March 21 instead. 
2. What skill level is needed for this course?
None! We will start at the beginning and go up from there – working all the way up to reading the intricate details of church records.
3. I already have the self-paced German handwriting course. Would this also help me?
Yes! Some will of course be review for you – which never hurts – , but I will be gearing this course towards both beginners and previous handwriting course students. While we will start "at the beginning", previous course students will benefit from the live instruction, the accountability – we will be having homework packets every week that you will be expected to complete by the next Thursday – , and the chance to ask me live and personal questions if you don't understand something, or have a personal document question. We will also cover things that are not in the handwriting course – this will not be just a repeat of the materials you have, but new materials made for this course in particular.
4. How much does the immersion workshop cost?
Total value (if you add it all up above) is $2,037, but it is yours for just $997. However, if you get it on Black Friday, you will get $250 off – so only $747! This equates to one month free on the monthly payment plan!
5. Is there a payment plan?
Yes, there is – you can divide the cost up into four monthly payments – we want you to learn!
6. I may have to miss a week. Is that ok?
Of course! All lessons will be recorded and sent out after the class. You will also have lifetime access to these recordings. 
7. Will this be fun?
Yes! If you've taken any of my courses or webinars before, you know I strive for fun in everything that I do. There will be games – BINGO! -, activities, and more to make learning the handwriting as fun as can be!